Switzerland is a fun place to visit year-round, famous for its snow-capped mountains, amazing skiing and summer adventures. Couples can visit museums, historic sites and stay in hip hotels in Zurich, Bern or Geneva, or plan a quiet holiday in the mountains to celebrate an anniversary, birthday or another special occasion.
In the winter, choose from small and large mountain resorts where you can ski on some of the most well run slopes in the world. Many travelers check into a health spa for a week of rejuvenation and relaxation. During the warmer season, play great golf in the mountains. Year-round, there are many luxury resorts and hotels to choose from in famous destinations like St. Moritz, Luzern, Basel, Zermatt and Melide. On your romantic getaway, pick the perfect spot for a wedding proposal or elope and get married with a view of a Swiss mountain lake.
1.Badrutt's Palace in St. Moritz
Badrutt's Palace is a luxury hotel surrounded by the Swiss Alps in St. Moritz, one of the world's top winter vacation destinations. Visit in December when the town gets festive in preparation for the holidays. The resort features a health spa, indoor & outdoor pools, tennis and golf. In the winter, enjoy challenging skiing, the Palace Ski School and natural ice rink with resident skating instructor. St. Moritz is a charming winter ski vacation destination, complete with gourmet restaurants and designer shops. The St. Moritz area offers numerous vacation activities for outdoor enthusiasts. In the summer, a shuttle transports guests to two nearby golf courses with spectacular mountain scenery.
There is also horseback riding, mountain climbing, tennis, biking, polo and sailing. The hotel's health club provides fitness classes and personal training. Summer activities in the area include opera performances, the St. Moritz Gold Cup golf tournament, the international windsurfing championships, and sailing regattas on the St. Moritz and Silvaplana lakes.
Since it opened its doors in 1896, the hotel has been a favorite with celebrities and royalty. The hotel has 201 individually decorated guestrooms and suites with beautiful views of the Swiss Alps, the village or the lake. The spa employs the Daniela Steiner Skin Care System products to provide a range of relaxing, therapeutic and rejuvenating treatments. The hotel has several restaurant and bars. Le Restaurant serves elegant breakfast and dinner, while Le Relais offers bistro-style French delicacies. Stop at the Acapulco Snack Bar for a juice and a light meal, or sip tea in the Palace lobby. The Renaissance Bar attracts guests for aperitifs and nightcaps with its warm fireplace. In the summer, you can dine outdoors at the Mexican Bar or at the Acapulco Terrace which serves grilled dishes and salads. King's Club Discotheque is open from mid-July to mid-August.
Room rates from Euro 139. The resort is open during the summer season from June 27 to September 22, and during the winter ski vacation season from December 4 to April 12. You can fly to Zurich Airport which is 2.5 hours by car from the hotel, Milan or Munich. If you do not wish to rent a car, Switzerland has an excellent railway system. Traveling by train will allow you to take in the beautiful scenery while somebody else does the driving. The hotel can make arrangements for transfers from the St Moritz Railway Station (+41-81-837-11-00).
2.Mandarin Oriental Hotel du Rhone, Geneva
Mandarin Oriental Hotel du Rhone, Geneva is a luxury romantic hotel located on the right bank of the River Rhone in the center of Geneva's business and historic districts. The hotel is a short walk from Geneva's historic old town and its theaters. The hotel has 192 guest rooms and suites, many with scenic views of the river. The elegantly furnished rooms feature art deco touches and Greek marble bathrooms. Chocolate lovers with delight in Creme de Gruyere chocolates served in the rooms on your luxury honeymoon.
Guests can work out at the fitness center, indulge in a massage, and relax in the sauna and steam bath. There are four restaurants and cafes at the hotel. Le Neptune and Le Cafe Rafael both offer outdoor seating on the terrace. Rates start at 320 Swiss Francs. VacationIdea.com Tip: Check for packages and deals to save on your trip. The "Luxury Breaks" package includes a daily dining credit of CHF 50 per day, or CHF 100 if you reserve a suite. It requires a 2-night stay. Rates start at CHF 660. The "Suite Temptations" includes: free 4th night, breakfast, VIP amenity (+41-22-909-0000).
3.The Beau-Rivage Palace Hotel on Lake Geneva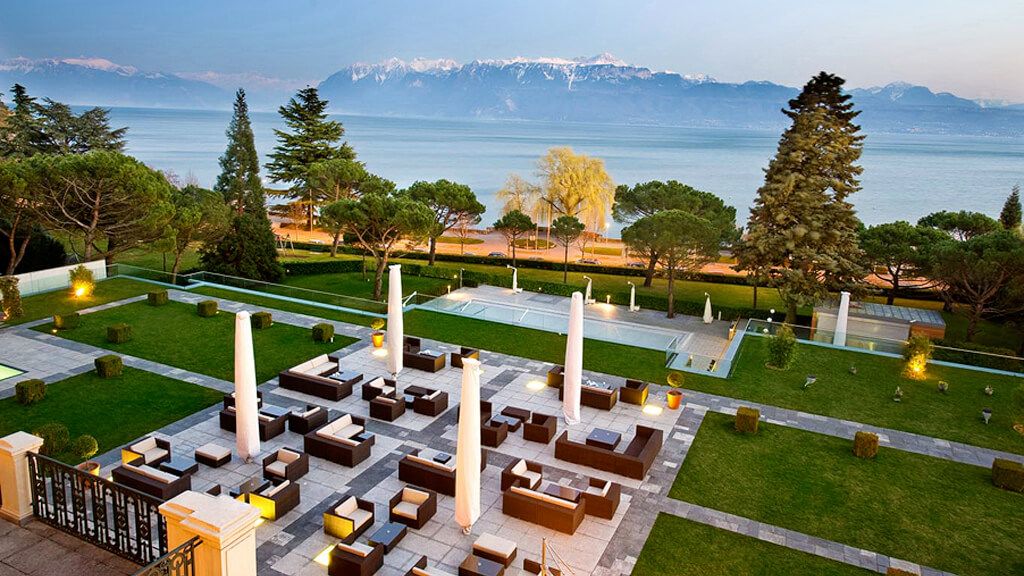 The Beau-Rivage Palace is a historic spa vacation getaway on the shores of Lake Geneva in Lausanne, Switzerland. Surrounded by ten acres of parkland, the hotel enjoys scenic views of the lake and the French Alps. The building features belle epoque architecture, furnished with antiques and fine reproductions. The hotel has a European spa with eight treatment rooms, an indoor and outdoor swimming pool and a fitness center. For the ultimate indulgence on your spa vacation, book one of the two private spa suites.
In the summer, Lausanne offers biking, sailing, tennis, golf and water-skiing on the lake. In the winter, there are several ski resorts a short drive away. Guest rooms and suites are individually decorated in a classical style. Ask for a room with a view of the lake and a Jacuzzi on your spa vacation. Luxury hotel services include 24-hour room service, a 24-hour concierge and twice daily maid service. During the warm summer months, sit on the terrace and enjoy the view. The hotel is 35 minutes from Geneva International Airport by train or by car. If you are traveling from Paris, take a train which takes about 3 hours and 35 minutes. Doubles start at € 310 per night (+41-21-613-3333).
4.Luxury Spa Suites at Grand Resort Hof Ragaz
Grand Resort Hof Ragaz in Switzerland offers luxurious spa suites with in-suite saunas where you can detox and relax as much as you like in the privacy of your own suite. If you are planning a romantic getaway to Europe, treat yourself to couples massages at this unique spa. There are several different accommodations to choose from at Grand Resort. Ask about the Grand Hotel Quellenhof & Spa Suites when booking your stay.
The resort makes it easy to travel with the whole family. While you are relaxing at the spa, kids ages 3 and older can participate in the children's program which includes painting, baking and games for kids of different ages. Babysitting services are also available. The spa has a Swarowski steam bath, a relaxing indoor hot spring and a number of spa programs. Enroll in a weight loss program or improve your sports performance. The thermal spa waters are healing and rejuvenating, perfect for a relaxing European vacation.
There are a variety of dining options at the resort, ranging from refined dining to casual eateries. Choose from a total of 8 restaurants, some of which are perfect for couples while others are great for families. Äbtestube is a gourmet restaurant serving delicious cuisine with top wines. The restaurant specializes in Regio Nova cuisine with dishes such as bison from Canada. Restaurant Bel-Air serves amazing spa cuisine, including delicious Japanese dishes. There are two beautiful golf courses at the resort, including an 18-hole PGA Championship Course which has hosted the annual European Seniors Tour for more than ten years. After a round of golf, have lunch on the Golf Restaurant terrace enjoying the views. The 9-hole Executive Course with Golf Academy is a great place to learn how to play golf in a relaxed setting. The 9-hole course is a great place to polish your short game. Rates start at 440 Euro for a Junior Suite (+41 (0)81 303 30 30).
5.Hotel de Trois Couronnes on the Shores of Lake Geneva
Hotel de Trois Couronnes is situated along the shores of Lake Geneva in the old town of Vevey, also referred to as the chocolate capital of Switzerland. Its strategic location offers quick access to Switzerland's top attractions such as a chocolate factory, Gruyere town, and Lavaux Vineyard Terraces. The hotel has a total of 71 elegantly appointed guest rooms, including nine Junior Suites and 16 Suites. Ask for one of the 34 rooms and suites which are oriented southwards overlooking Lake Geneva and the Alps. Restaurant Les Trois Couronnes has a terrace overlooking the lake and the Alps and offers Mediterranean and fine local cuisine.
Spa Lounge serves light, healthy meals. The Veranda Bar entertains guests with live music, cocktails and light snacks with views of the lake and the Alps. The Puressens Spa is the hotel's wellness, health and balance center that embraces a zen environment. The facility houses the Joelle Ciocco Epidermiologic care center. Swim in the 24-meter heated indoor swimming pool with underwater music, relax in the sauna and whirlpool. There are 9 treatment rooms where you can get a variety of massages, body wraps and more. The spa offers fitness courses, including Pilates and body sculpting. A 9- and an 18-hole golf course are just three kilometers from the hotel.
The hotel is home to the Montreux Jazz Festival and families can witness its festivities when booking in July. For sports lovers, a tennis court is just a five-minute walk away. Water sports can be organized upon request. The hotel offers sight-seeing tours for families. The hotel has a wedding organizer that assists couples with their wedding plans. Room rates start at 243 Euro per night (+41 21 923 32 00).